Last Updated: August/2020
Welcome to Navegg
1. Introduction
1.1. Thank you for connecting with Navegg. Navegg (in this Policy referred to as "our", "us" and "we") is a business division of the Dentsu International, a global media group. Through this document ("Privacy Policy" or "Policy"), you will have access to all the possibilities for processing your personal data through Navegg and/or Dentsu International. Therefore, we recommend that you read this Policy carefully.
1.2. We aim to help our customers improve the way they advertise and market, whether by printing, posting, e-mail or on websites (in this Policy referred to as "Services"). We believe that the responsible use of data supports business growth and creates strong relationships between brand and consumer. As a company, we are committed to respecting and protecting the privacy of all individuals with whom we interact. We are committed to being transparent in the way we treat personal data at all times, in accordance with applicable privacy and data protection laws.
1.3. This Privacy Policy explains in detail the types of personal data that we may collect about you when you interact with us. Dentsu International is the data controller for any personal data you provide to us, including in relation to this website.
1.4. This Privacy Policy features the following:
Personal data collected

How we use your personal data

How long do we keep your personal data

How we protect your personal data

How we share and disclose information

International transfers between companies and between the Dentsu International

Your rights as a holder of personal data

Our responsibility for links from third party sites

Updates

How to contact us
1.5. In the Supplementary Information section of this Privacy Policy, we explain what "personal data" and other terms used in this Policy mean.
2. Personal data collected
2.1. The type of information we collect will depend on the circumstances and the service you are using. In general, we will collect information related to you and / or the use of our Services in the following ways:
2.1.1. Information related to the use of the website: we collect information about how you use our website. This includes information related to the pages you visit on our website, the services or information you are looking for and the links and content you choose to access. We may also use the personal information you provide through the use of our website to provide relevant content and inform our marketing strategy. This type of activity is known as "profiling" – using automated means to process your personal data to analyze or predict your personal preferences, interests or behaviors. You can object to the creation of this type of profile (see section 8 of this Policy, below).
2.1.2. Technical data: we collect information about the device (s) you use to access our website. This includes collecting unique mobile device IDs or online identifiers for Internet Protocol (IP) addresses, which are numbers that can uniquely identify specific hardware / computer or other network device on the Internet. This information is linked to a cookie ID, which we receive and process. You can find more information about the cookies we use and the purposes for which we use them in our Cookie Notice.
2.1.3. Contact details: we collect contact details when you sign up to receive email alerts, attend one of our events, download our content, subscribe to our newsletters or when you ask us to answer a question you ask. The personal data we collect includes your name, email address, title and location.
2.1.4. Marketing and communication data: we collect information about your preferences when browsing our website, requesting the receipt of our marketing communications and other preferences expressed by you.
2.2. We do not intend to collect information about minors under the age of 18. If you have any questions about your child's privacy in relation to our services, or if you believe that your child may have entered personal data on our website, please contact us at [email protected]. We will delete this information from our records within a reasonable time.
3. How we use your personal data
3.1. Except as required by law, we use the personal data you provide for the following purposes:
provide the specific information or services you have requested;

to allow the download of our content;

send newsletters and information related to our brands and services;

respond to your requests and feedback;

analyze and / or improve our services; and

to target marketing content or to expand and inform our marketing strategy, according to     the mapping of your preferences.
3.2. To provide maximum transparency regarding our personal data processing activities, we provide you with a description of the legal basis for the processing of your personal data. Most of the time, the treatment of your personal information is based on: a) our legitimate interests, when providing services requested by you or, otherwise, your relationship as our customer; b) your consent, when requested, or c) to comply with a legal or regulatory obligation, within the limits of the applicable legislation.
3.3. In the table below, we present more information related to the purposes for which we use your personal data and the legal bases on which such uses are supported. Please note that we may treat your personal data on more than one legal basis, depending on the specific purpose for which we are using your data.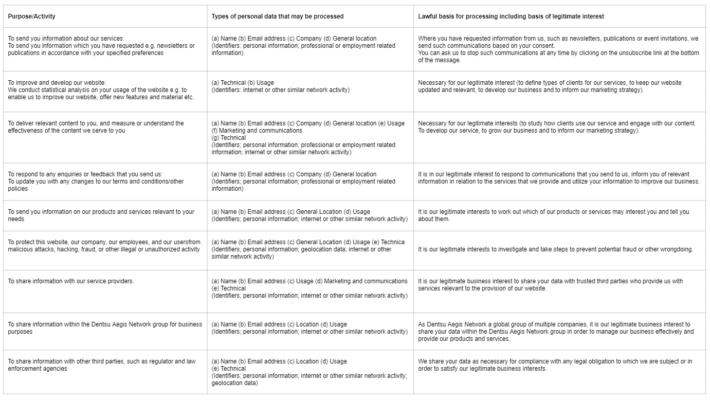 4. How long do we keep your personal data
4.1. When processing your data, Dentsu International will endeavor to store and keep them protected, in safe and controlled environments, respecting the current legislation. For this reason, your personal data will be stored using high security levels, including access control practices.
4.4.1 In offering its Services, Dentsu International always seeks companies that employ a high level of security in the storage of information, establishing contracts that do not violate the terms of this Privacy Policy.
4.4.2 We will keep your personal data for as long as necessary to perform our Services, in accordance with our legal obligations. After this period, your personal data will be safely deleted or anonymized, so that they can be used for analytical purposes. You can request more information through the contact details provided in this Privacy Policy.
5. How we protect your personal data
5.1. Dentsu International is committed to continuously implementing physical, technical and administrative information security measures in the treatment of your personal data, in accordance with the best market practices. The aim is to protect your data against unauthorized access, accidental or unlawful situations of destruction, loss, alteration of communication or any form of improper or unlawful treatment.
5.1.1. Accordingly, Dentsu International allows your personal data to be accessed by its employees and other third parties only to the extent necessary to carry out its activities, in accordance with express instructions and under a contractual obligation of secrecy and confidentiality of the processed personal data.
5.1.2. In our partnerships with other companies or service providers, we always seek to ensure that the same level of protection for personal data is implemented and executed.
6. How we share and disclose your information
6.1. Information shared with our third-party service providers: We may use third parties to perform commercial functions on our behalf, such as sending newsletters, hosting our services online and managing customer relationships. We will only disclose the information necessary to allow these third parties to perform their services. Our service providers are hired to comply with our instructions, and we require that they do not use your personal data for purposes other than those indicated here.
6.2. Information shared with other parties: when required or permitted by law, personal data may be provided to third parties, such as regulatory bodies and public entities, in response to a court order or subpoena, in response to a police request or where we believe it is necessary investigate, prevent or take measures related to illegal activities, in accordance with the requirements and limits of the applicable legislation.
6.3. We do not sell or rent your personal data to third parties.
7. International Transfers Between Companies and Between Dentsu International
7.1. Dentsu International is a media group with global operation, composed of several companies. Therefore, we may periodically disclose your personal data to our group of companies, as long as there is a need to comply with the provision of our requested Services to you or to perform any necessary or legitimate functions of the Dentsu International.
7.1.1. Some of our group companies are located outside of Brazil, but we always guarantee the security of such disclosures and transfers in accordance with applicable privacy and data protection laws.
7.1.2. We will only transfer your personal data outside of Brazil where there are adequate levels to protect the integrity and security of any information processed and compliance with applicable privacy and data protection laws. When we transfer personal data between companies in our group, we make these transfers through standard contractual clauses adopted by the European Commission.
7.1.3. We may also store your personal data on servers located outside the national territory, including, but not limited to, cloud computing servers that follow internationally accepted standards for personal data security.
7.1.4. In the cases mentioned above, Dentsu International is committed to respecting the applicable legislation to ensure the protection of your personal data, through practices such as the conclusion of appropriate contractual agreements.
7.2. You can request more information about the measures used for these transfers through the contact details provided in this Privacy Policy.
8. Your Rights as a Personal Data Holder
8.1. Dentsu International will take appropriate technical and organizational measures to fulfill its obligations regarding your rights as a holder of personal data. In this sense, we commit ourselves to make possible, in the best possible way, your rights as provided by law, which are:
8.1.1. Confirmation: right to be informed about the existence of data processing.
8.1.2. Access: right to request access to personal data.
8.1.3. Correction: right to request data changes when they are incomplete, inaccurate or out of date.
8.1.4. Restriction: right to oppose or request anonymization, blocking or deleting unnecessary, excessive or treated data in non-compliance with the legislation on the protection of personal data.
8.1.5. Portability: right to request the transmission of processed data to another service provider.
8.1.6. Deletion: right to request the deletion of personal data processed based on your consent.
8.1.7. Information: right to be informed about the public and private entities with which your data was shared, about the possibility of not providing consent and about the consequences of this denial.
8.1.8. Revocation of consent: right to revoke consent, when the treatment depends on your consent, at any time, through express expression, by free and facilitated procedure. The revocation of your consent does not affect the legality of treatments performed until the moment of revocation.
8.2. If you are interested in stopping the receipt of marketing messages by the Dentsu International, you can, at any time, unsubscribe from these messages, through unsubscription that can be done from the opt-out link within the message itself sent.
8.3. Oppose the processing of your personal data when supported by our Legitimate Interest (or that of third parties), including for the purposes of direct marketing or profiling. You can object at any time, and as such, we will stop processing the information you opposed, unless we have compelling legitimate reasons to continue this treatment.
8.4. If you exercise the above rights and there are any questions regarding your identification, we may ask you to provide information from which we can be sure of your identity, in order to ensure adequate security in meeting requests from personal data holders.
8.5. If you are interested in exercising any of the rights listed above, you can contact the Dentsu International using the contact information provided in this Policy.
9. Our Responsibility for Links from Third Party Sites
9.1. This Privacy Policy is limited to personal data collected by Dentsu International. We provide links within this site to other sites, including social media sites such as Facebook, Twitter and LinkedIn. If you follow these links, you must use these sites in conjunction with the applicable privacy and user notices, as your data practices are outside the scope of this Privacy Policy. In addition, we cannot have responsibility or control over the information collected by any third-party website, and we cannot be responsible for the protection and privacy of any information you may provide to any third party.
10. Updates
10.1. This Privacy Policy may be updated from time to time to reflect changes in the law, best practices or a change in our practices in relation to the processing of personal data. The date of the most recent version will appear at the top of this page. If you do not agree with the changes, do not continue to use our services and avoid sharing your personal data with us. You should check this notice frequently for updates.
10.1.1. Any modification to this Policy that impacts the consent previously provided or implies a financial burden for you will be communicated by Dentsu International in advance. However, any changes made for legal reasons or due to new features of a Service will take effect immediately.
10.1.2. You can stop using the Services at any time. Likewise, Dentsu International may also stop providing the Services to you at any time, as well as adding or creating new limits on the Services.
10.1.3. If you do not agree with any changes to this Policy, you must stop using the Services. Otherwise, subsequent use of the Services will result in your acceptance of the new version of the Policy.
11. How to Contact Us
11.1. If you have any questions about this Privacy Policy, about our data handling practices or if you wish to exercise any of the rights mentioned in this Privacy Policy, please contact our Data Protection Officer in the following ways:
Address: Data Protection Officer / DPO Brasil Rua Wisard 298, 8th floor, Vila Madalena, São Paulo / SP, Brazil – CEP: 05434-000
Telephone: +55 (11) 3759-3752
Email: [email protected] 
Supplementary Information
In this Supplementary Information section, we explain some of the terminology used in this Privacy Policy.
Data controller: the person or company who is responsible for decisions regarding the processing of personal data, such as who controls the purposes and means of processing personal data.
Personal data: any information related to you or that allows you to be identified.
Treatment: means the handling of data, including, but not limited to collection, handling, storage, disclosure and deletion.
Profiling: using automated means to process personal data in order to discover information about people, such as analyzing or predicting their job performance, reliability, economic status, personal preferences, interests, behavior, location or movements.
International transfer: sending personal information outside Brazilian territory (for example, storing it in equipment located outside Brazilian territory) or allowing someone outside Brazil to access that information.
Edit your data
If you accessed your profile and want to change it, click here. 
Opt out
If, however, you still prefer not to enjoy an online experience with personalized ads, offers and content, all you have to do is click here and our systems will no longer register your activity online. In addition, Navegg respects DNT (Do Not Track) protocol. To activate DNT, visit the settings of your browser.